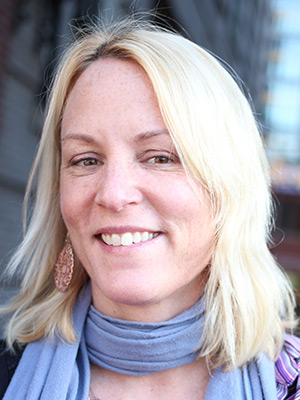 Tamera Marko, Ph.D.
Co-Founder and Co-Director
From: San Diego-Tijuana
Emerson College
tamera_marko@emerson.edu
Tamera Marko specializes in what she calls the "theory, politics and practice of rhetorical mobility." She does this through transnational translingual, multimedia community literacy research projects in the Americas (Spanish, Portuguese, English). She channels her work as an historian of Latin America and her 17 years of teaching writing to combine genres of new media, composition and historical memory to research and publish in the genre called for by each project. Marko's academic, media, video and poetry publications explore youth and motherhood human rights projects. She also works on issues of gender, class and white privilege in the Americas. Over the last seven years, she has founded and co-directs three interrelated rhetorical mobility projects in collaboration with Emerson College, MIT, Duke University, and the Universidad Nacional de Colombia in Medellín.
Her work has been featured in academic journals, film festivals, galleries, theaters, and universities and on television in Medellin, Rio de Janeiro, Durham and Boston. For the last six years she has been working on theory and practice of transnational pedagogy she calls pedagogscapes. She is especially concerned with negotiating rhetorical situations and writing necessary for storyteller and her story to cross borders. Marko collaborates with storytellers who, for various reasons of inequitable geopolitical, economic, race and gender power relations, have the least access to rhetorical mobility.
She is the incoming Executive Director of the Elma Lewis Center for Civic Engagement, Learning, & Research at Emerson College in Boston, where she has been Senior Lecturer of the First Year Writing Program. She teaches transnational translingual research writing courses in English, Spanish and Portuguese. Her previous positions include visiting faculty with the Universidad Nacional de Colombia and at Duke University, Director of the North Carolina Latin American Film Festival, a Mellon Faculty Fellow with the University Writing Program, and Director and Co-Founder of DukeEngage Colombia, a program she integrated with Emerson College Global Pathways Colombia She has a bachelor's degree in journalism, a master's degree in Latin American Studies and Communications and a Ph.D. in Latin American History with an emphasis on Women's Studies and Race and Ethnic Studies.